It's more than one month now since I updated my last post and I regret that I couldn't post anything within that length of time. This is due to the nature of my job. We left Tilbury last month and now we transferred here in Bremerhaven shipyard and our ship is still being dry docked for repair. Unfortunately we still don't have any internet connection and our satellite is still under repair too. I just rely on outside wifi access so, this is my new follow up post as continuation for the unfinished topic for that post below. Hopefully, I will make a new post again if our internet connection will be restored soon.
My last article was still 555 timer so this is another neat idea how to get more useful circuit out of your 555 timer. I think it is not good to move on to another topic using another chip because every time I made a circuit out of this 555 timer, another idea pops-up in my mind to share.
OK, here we go. Lets say a fellow wants to build a 2 channel class d amp using 555 timer. This is a bit tricky because using 2 of this chips will oscillate in different manner even if the frequency determining networks are ideally matched. So the need for syncing is a must. Quick thinkers immediately had in mind is that the circuit should have a master and a slave part for proper syncing of carrier signal to avoid audible bit frequency. Yes, this approach is correct but how to implement it? So here is a possible circuit that may pop-up in the mind of quick thinkers.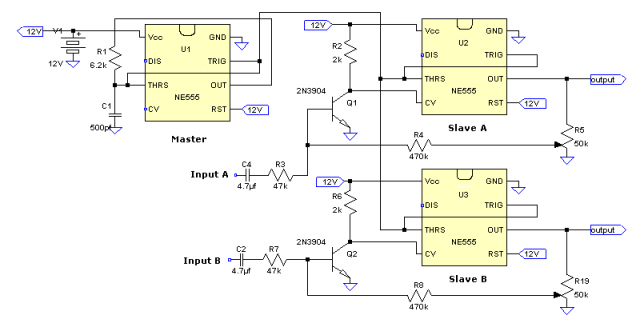 The circuit shown above was copied from my previous circuit I discussed recently. Here, pin 6 and 2 of slave A and B is being connected to the master pin 6 and 2 for syncing. The master controls the frequency of oscillation. This is the easiest and maybe the simplest syncing scheme that you may think (mind you, me too). But upon simulation, when the audio signal is introduced to either slave A or B, the output pulses to pin 3 does not behave as expected. Even if I carefully tuned pin 5 to any offset voltage that could bring the output more usable seems difficult.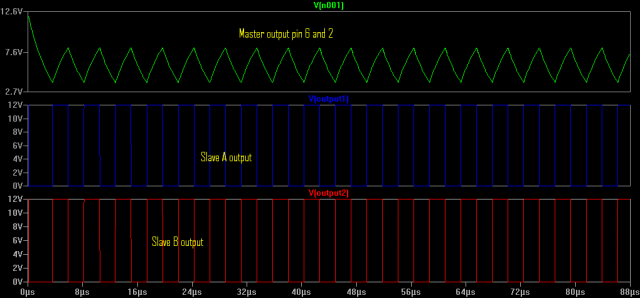 The output waveform of either slave A or B looks promising if no signal is present on pin 5 (pin 5 is floating).
But when audio signal is present, and the collector of 2N3904 is connected to pin 5,my enthusiasm to the circuit suddenly collapsed.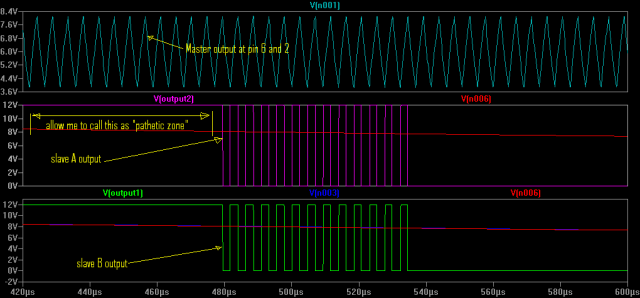 Output waveform of pin 3 in both slave A and B. Here, the output pulses are intermittently put into a halt by the Vmax and Vmin of 1 kHz audio input. I think that there is no simple remedy available here for the moment.
This made me to conclude that this type of circuit is only applicable as single channel amplifier. Careful scrutiny within the entire circuit followed by several simulations attempt leads me to think that it is only necessary to link pin 6 and 2 to its very own oscillation or modulation and should not rely to external one. There must be another way to implement two or more channel and the simple answer was already discussed by me at the very first article I post.
The circuit shown below will work in multiple channel application because the master's output pin 3 has negligible loading effect of the trigger pin 2 of any slaves connected to it. Also, this circuit is quite unique in its own right because the operating principle does not conform to a conventional setting where saw tooth is generated to sample the audio signal thru comparator's two inputs to produce PWM. Here, the master generates continuous but fixed pulse width of approximately 98% for the purpose of two important things; To reset the internal flip flop of all slaves, and to discharge the timing capacitor via pin7 simultaneously. The most attractive feature of this circuit is that they are darn cheap. This circuit can produce wider modulation from 0% to 95%. But 100% is not allowed because the master is required to pull down pin 2 to ground of all slaves in short duration fast enough to accomplish its two task as already mentioned above. Opamp bias network R11 and R12 should be replaced with potentiometer for 50% duty cycle adjust.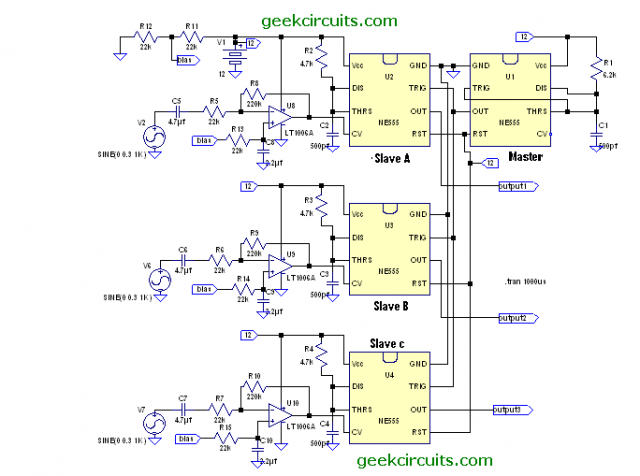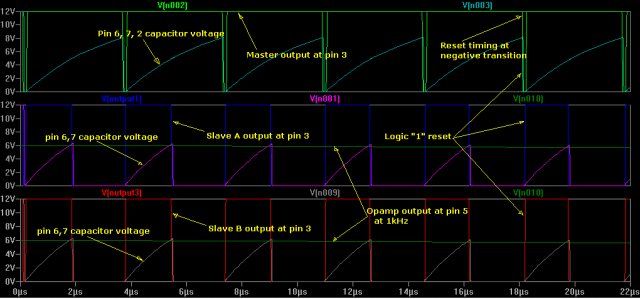 The master produce an output of very short negative going pulse which is sufficient to change the output state of all slaves into logic 1 but the "width" of that "on" state is governed by modulation voltage on pin 5 of all slaves.
Please take note that even though the circuit looks good and simple, proper matching of the master and slave's frequency is very important. Improper matching will result into unsuitable for class d application. This mismatched frequency scenario I'm referring to is; instead of producing class d amp, you will end up to get a frequency divider instead. Try to simulate it so that you know what I mean.
Let's scrutinize the basic function of the circuit. The master is wired as an astable multivibrator having a fixed frequency F determined by;


and the duty cycle is;

The slave which is configured as monostable or "one-shot" having a variable pulse width (PW) which is a function of;
PW= 1.1 R1 x C1
Take note That there are three possible ways in modulating the width of the pulse of the slaves; Its either to vary the timing resistor R1 or to vary the capacitance of C1, but the most easiest way is to modulate pin 5 with a correct signal. Some newbie might wonder how does PWM is being generated by simply modulating pin 5? Yeah, It is more easier to grasp the theory behind PWM generation by altering either R1 or C1, but how about pin 5? The answer is simply based on the fact that if the 3 internal voltage divider of 555 timer varies its voltage via pin 5, the cut-off and cut-in of upper and lower comparator voltages will "set" and "reset" the internal flip flop of all slaves accordingly thereby producing PWM from their outputs.
In my breadboard, R2 doesn't exist and I can produce 97% duty cycle for use as master. If you cannot produce this without R2, then you can add R2, then follow the astable equation above. By the way, my 555 timers are all CMOS type marked as LMC 555 and they are capable of oscillating up to 3 Mhz at 5 volts. They consumed less in power but with very fast rise and fall times of 15 nanoseconds. Of course any bipolar 555 timers will work as well. It just so happen that LMC 555 is the only available stuff in my cookie jar.
Simulation of the circuit above is available below:
[smartcounter:10]