- August 5th, 2010
Perhaps some of you have already seen my blog in DIY audio forum showing practical use of 555 timer as class d amp source. Indeed, the circuit is quite an interesting subject to exploit specially to some curious folks looking for cheap but good sound class d audio amp project. The same circuit is shown in figure 1. Read the rest of this entry »
- July 5th, 2010
Class D amp using TL494 DC to DC converter chip
It's almost 5 years now since I published a topic regarding how to use TL494 as class d amp in a popular DIY audio forum. I think it's quite good to include this article here also. By the way, before I publish that topic I thoroughly googled the said subject to see if there are some geek guys who have already done such a playful exploit of this chip but I simply got zero hit. This could mean that I am an early bird on this regard? Or maybe I am the only one who have a bizarre taste in choosing the right chip for such an application. Read the rest of this entry »
- April 11th, 2010
It's more than one month now since I updated my last post and I regret that I couldn't post anything within that length of time. This is due to the nature of my job. We left Tilbury last month and now we transferred here in Bremerhaven shipyard and our ship is still being dry docked for repair. Unfortunately we still don't have any internet connection and our satellite is still under repair too. I just rely on outside wifi access so, this is my new follow up post as continuation for the unfinished topic for that post below. Hopefully, I will make a new post again if our internet connection will be restored soon.
My last article was still 555 timer so this is another neat idea how to get more useful circuit out of your 555 timer. I think it is not good to move on to another topic using another chip because every time I made a circuit out of this 555 timer, another idea pops-up in my mind to share. Read the rest of this entry »
- February 14th, 2010
I'm almost in the process of preparing another article to post but my attention was diverted again to the previous 555 timer circuits I made. I simply couldn't afford to leave the circuit that way. I am concerned that by changing the 2N3904 with the same type of transistor but of different hfe, the duty cycle changes accordingly and this is annoying. Read the rest of this entry »
- February 11th, 2010
Ok, I've been so busy for the past few weeks and I couldn't make a follow-up from the last article of the 555 timer circuit. So here is another improvised model circuit that will eliminate the unwanted DC offset voltage from the output that affect the previous one discussed. By the way, all previous circuits that I discussed were intended as "low power" class d amp source that is adequate to drive head phones via a coupling capacitor. Read the rest of this entry »
- January 22nd, 2010
This is a continuation of my previous article regarding class d amp using 555 timer chip. Looking back to several schematics on that article, some of you may wonder why I include another 555 as U2 in the drawing. The main purpose of this U2 is to establish constant frequency trigger on pin 2 of U1 in such a way of maintaining stable PWM carrier frequency during audio input modulation. Read the rest of this entry »
- January 3rd, 2010
Perhaps 555 timer is the most versatile chip ever introduced during the 70's and still being used by many due to its inherently innumerable uses such as LED  flashers for toys, battery regulators for cars, precision timing device for instrumentations and the list goes on. Not to mention its dirt cheap price and one of the most ubiquitous IC on earth.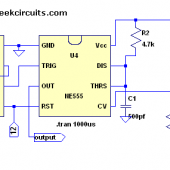 Read the rest of this entry »
- December 29th, 2009
This article is intended for electronic hobbyist or students alike who are interested in learning the basic operating principle of these audio amplifiers popularly known as class D amp. These types of switching amps are ideally suited for battery operated gadgets and are popularly being used in cell phones, set top boxes, and most MP3 players due to its inherently high efficiency and low power consumption as opposed to linear amps. The sample circuit bellow is for low power headphone amplifier but can also drive small speakers as well.
The basic operating principles of these audio amps are similar to those of switching DC to DC converters utilizing PWM (pulse width modulation). But when used in audio applications, the output is purely in a clock pulses being modulated on its duty cycle in proportion to audio signal as a modulator.
Let's say at chosen clock frequency of 200 kHz, the quiescent output pulses are at 50% duty cycle without audio but being modulated to +/- 50 when strong audio is present. This will yield an output of from 0 to 100% centered at 50. Read the rest of this entry »